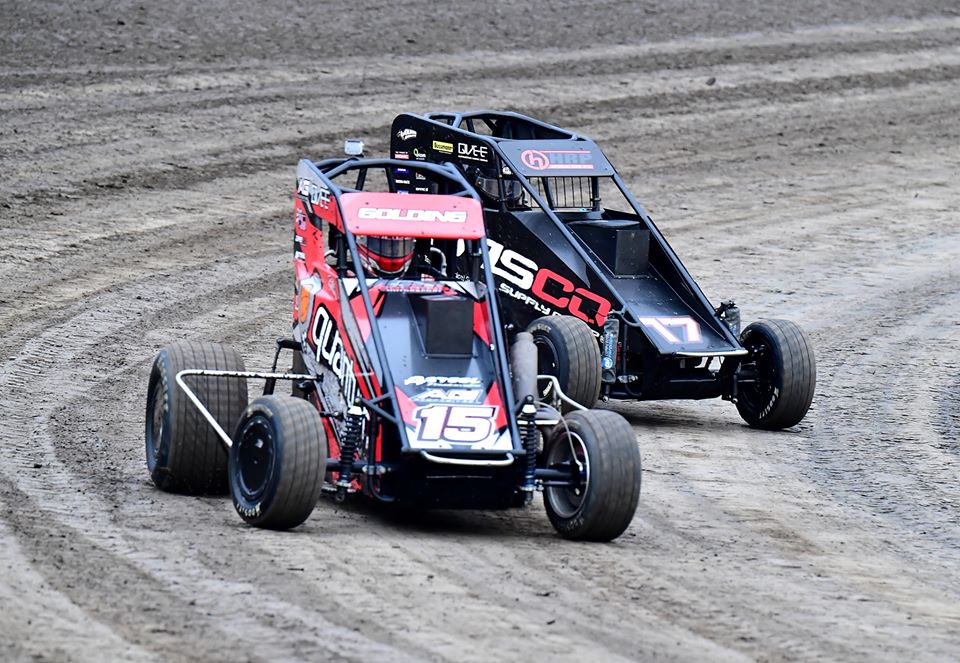 A Sudden Finish to the Season!
Unfortunately for Rob Golding and the Golding Motorsport team, just as their luck seemed to be turning around, the season came to a premature end!
After working hard in the weeks leading up to the WA Title, Rob and the team made their way through scrutineering early and were ready to race at the Motorplex a fortnight ago, despite the skies being ominous.
Rob would start from position three in his opening heat but wasn't quite able to get the result he was hoping for, coming home in ninth place.
"In the first heat we struggled big time with the wet track," says Rob. "I started on the inside line and where I started the race was probably the worst patch of track, so I just spun the wheels and watched everyone pass me. It was a very wet track with a drying line, so if you stepped off that line you'd go backwards, so I didn't have a great result."
The next heat saw Rob come from position eight and race his way past a number of other tough competitors to record a solid third place finish.
"The second heat was much better. After some setup changes the car was a rocket and our result left us looking forward to the feature to see what we could have done. We would have started out of position eight, but it just wasn't to be!"
As Rob alluded to, and with the grid set for the WA Speedcar Title, the heavens opened up and simply didn't stop. Despite the best efforts of the Perth Motorplex staff, the event was cancelled.
This would also mark the end of the season for Speedcars, with the Perth Motorplex and Collie (each scheduled to host one of the final two nights of racing for the season) both forced to shut their doors early due to the current situation in the World today.
"Overall the night itself was a bit of a strange one. With everything escalating around the world, plus the weather looking pretty ugly, I think we all felt it could have been the last night but were hopeful that we were wrong. Obviously, the health and safety of everyone is much more important than racing so I believe the right decision was made."
Coming into the WA Title show at the Motorplex, Rob was sitting in equal third place in the Pool Shop Group Perth Motorplex Speedcar Track Championship, looking to do all he could to defend it after winning the season previously. Despite the 2019/20 season coming to a premature end, the final night would see Rob's results enough to actually elevate him into second place overall, just seven points shy of the eventual winner, Rob's brother Dan Golding.
"Ending up second in the Track Championship is still a great result for us considering we didn't put a full night together. We had good heats and good features, just not on the same night. We really need a bit of luck on our side and sure, we had a lot of damage from other people's crashes which severely impacted our budget, but that's racing. A bad day racing Speedcars is still a good day!"
"If I'm going to end up second to anyone, I'm glad its Dan. He has been a massive supporter of mine since I started racing and he's been one of the fastest cars there every night, particularly the last half of the season, so he deserves it. As we were equal points going into the night, it would have been good to get the feature in to see what we could have done, but Mother Nature had other ideas!"
So despite the season now officially being over, the work will not stop at Golding Motorsport, with a number of things to be done in what is the off season.
"With the virus affecting almost everything, it just brings our rebuild closer which to be honest is probably a good thing. My wife and I have our first baby due in June and things might get a bit hectic after that so would be nice to have it all finished before then!"
As for the teams plans for next year? As always, it depends on sponsorship for Rob and with a little one on the way it looks a bit tough.
"Look, we will keep battling away to see what we can do. I would love to have the baby lulled to sleep by the sounds of Speedcars, so I just hope it all comes off. I'm counting down the days until June, I can't wait!"
In the meantime, Rob would like to say a massive thankyou to all his sponsors who have supported him this year, in particular to Mills Drainage who sponsored him a new right rear tyre for the WA Speedcar Title… Unfortunately, the team didn't get the chance to use it!
To the teams at Dasco Supply Group, Hyper Industries AG Composites, Thermal Dynamic Engine Heaters, My Race Setup, Asteel Powdercoaters, Quantum Collective and QVEE, thankyou so much for being on board with the team this year.
Rob would also like to thank all those who have continued to help him get the car on track this season, in particular his crew; Rob Masi, Matt Varis and Les Sharpe.
"The help these guys give me at the track and in the shop is incredible and I definitely couldn't do it without them! To my sponsors, without whom I wouldn't be racing, thank you for helping me live my dream!"
A big thankyou also to WASDA, the Motorplex crew and all the fans who have been part of the team's journey this season. Rob would like to wish you all well, to stay safe in these tough times and we hope to see you back on track next season!
Golding Motorsport would like to thank all those sponsors who have been on board for the 2019/20 season including Dasco Supply Group, My Race Setup, Hyper Industries, Asteel Powdercoaters, AG Composites, Thermal Dynamic Engine Heaters, Quantum Collective, Mills Drainage and QVEE.
Release by DTN Media.
Pics Courtesy Peter Roebuck and Richard Hathaway Photography.