Chassis
Our Chassis of choice is a "Spike", built in Brownsburg Indiana.
The chassis is of tubular chromoly construction, made to the stringent rules of Speedcars Australia.
Our Chassis is powercoated to protect it from the elements and for that extra visual effect. Our friends at Asteel Powdercoaters have been blasting and painting our car for many years. 
Motor
Our motor of choice is a "Hawk"
It's an inline 4 cylinder pushrod motor, based off a Chevrolet.
It runs on Methanol and produces anywhere from 360 to 380 horsepower.
The car has no gearbox and is direct drive to the wheels.
The motor was originally built by Graham Racing Development in NSW. But has been maintained by our friends at VM Race Engines in WA.
Suspension
Speedcars run a mixture of Torsion Bar and Coil suspension. We elect for a coil over front suspension and Torsion Bar rear.
Our Shock Absorbers of choice are oil filled "Advanced Racing Suspensions" from in Indiana, USA.
They are adjustable through in cab adjusters so that Rob can adjust throughout the night while in the car. Each shock adbsorber is unique to that corner of the car.
If we run into any trouble, our friends at Shock Absorber Therapy repair and maintain them throughout the season.
Body Panels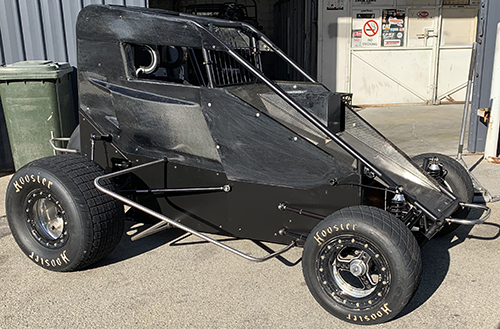 Our panels are custom made to our Spike Chassis.
We worked closely with AG Composites in Perth, WA to design a body kit that was sleak, aerodynamic, strong and lightweight. 
The panels have some signwork applied to protect the panels, but also show off our sponsors