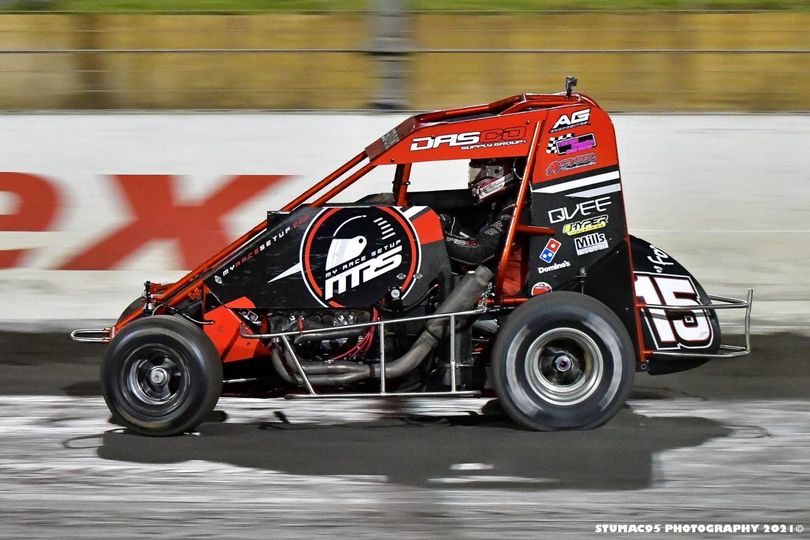 One more to finish the season
Just one event remains this season for Rob and the Golding Motorsport team and they will certainly be hoping to finish the season on a high after a frustrating few events.
The last event for the Speedcars in WA was the annual Gold Cup event, this year being held in honour of WASDA Club legend Graham Jones.Working closely with Graham over the last few years, both behind the scenes and on track, Rob was determined to put on a good showing, as well as try and peg back some points in the Perth Motorplex Track Championship.
There would be three heats held across the night, with each driver contesting two, so Rob's opening heat was actually the second for the night. Unfortunately it would see some contact for Rob after an early restart, seeing his ninth place start turn into a DNF.
"Our first heat just sums up our season really," says Rob. "We got off to a good start and the yellow was called, but as the cars were all slowing down one moved down the track a little and clipped the right front of my car. It didn't feel like a big hit, but I did feel something weird in the steering afterwards, I just thought something was a bit bent. At the restart I went into turn 1 and something broke so I lost steering. After I pulled to the infield, I soon found out that we'd have to change the front end…It couldn't have broken the $50 steering arm it had to break the $400 stub axle!"
After repairs in the pits, heat three (Rob's second) would see Rob start from position two and he came home with a solid fourth place finish.
"We changed the whole front end during the break but as we were busy we didn't get a chance to work on setup so we missed it a bit for our second heat. We started on the front row and finished fourth which wasn't too bad; the car was ok but with a bit more time I think we could have fine-tuned it."
Next up would be the all important twenty lap feature where Rob would start out of position nine in what was scheduled to be a fifteen car field. As the race went green Rob got a bit caught up and dropped to tenth place by the completion of the opening lap, but over the ensuing laps was able to make some ground up, back into eighth by lap six and sixth by lap nine. Try as he might, he was unable to make any more ground and would settle for sixth place as the chequers fell.
"The feature was a bit rough. The track was super fast all over which makes it difficult to make up any ground. We got fed a wheel early on which was pretty crap; coming off the corner it took all of my momentum and I got swamped, losing a lot of ground and fell back to nearly last. I worked hard for the next few laps to get back and a few yellow lights helped me with that. We got close at the end to Glen and Dan, but with the track being that drivey we couldn't have done much more. Maybe another few laps I could have done something but when the track is like that its pretty wide open so doesn't allow any real passing opportunities as we're all pretty much the same speed."
Courtesy of the nights results, Rob now sits in a solid fourth place in the Perth Motorplex Track Championship. This is a good result considering the caliber of competition this season, but not where Rob was hoping to be at this point of the season with just one round remaining.
"Championship wise we're well and truly out of it; I have to rely on someone above me not starting the feature race to be in with a shot. We'll just do our best and see what comes of it! To be honest, we've had a bit of an indifferent year, we started off well with a podium but haven't had much luck since then so it would be nice to end it with a podium at the final show!"
Indeed, that final show of the year will be back at the Perth Motorplex on Saturday the 17th of April, so fingers crossed Rob and the Golding Motorsport team can finish the season on a high!
Golding Motorsport is proudly supported in season 2020/21 by Quantum Collective, My Race Setup, Dasco Supply Group, QVEE, Thermal Dynamics Engine Heaters, Asteel Powdercoaters, AG Composites, Dominos Spearwood, Hyper Industries and Mills Drainage.
Release by DTN Media.Pic Courtesy Stumac95.