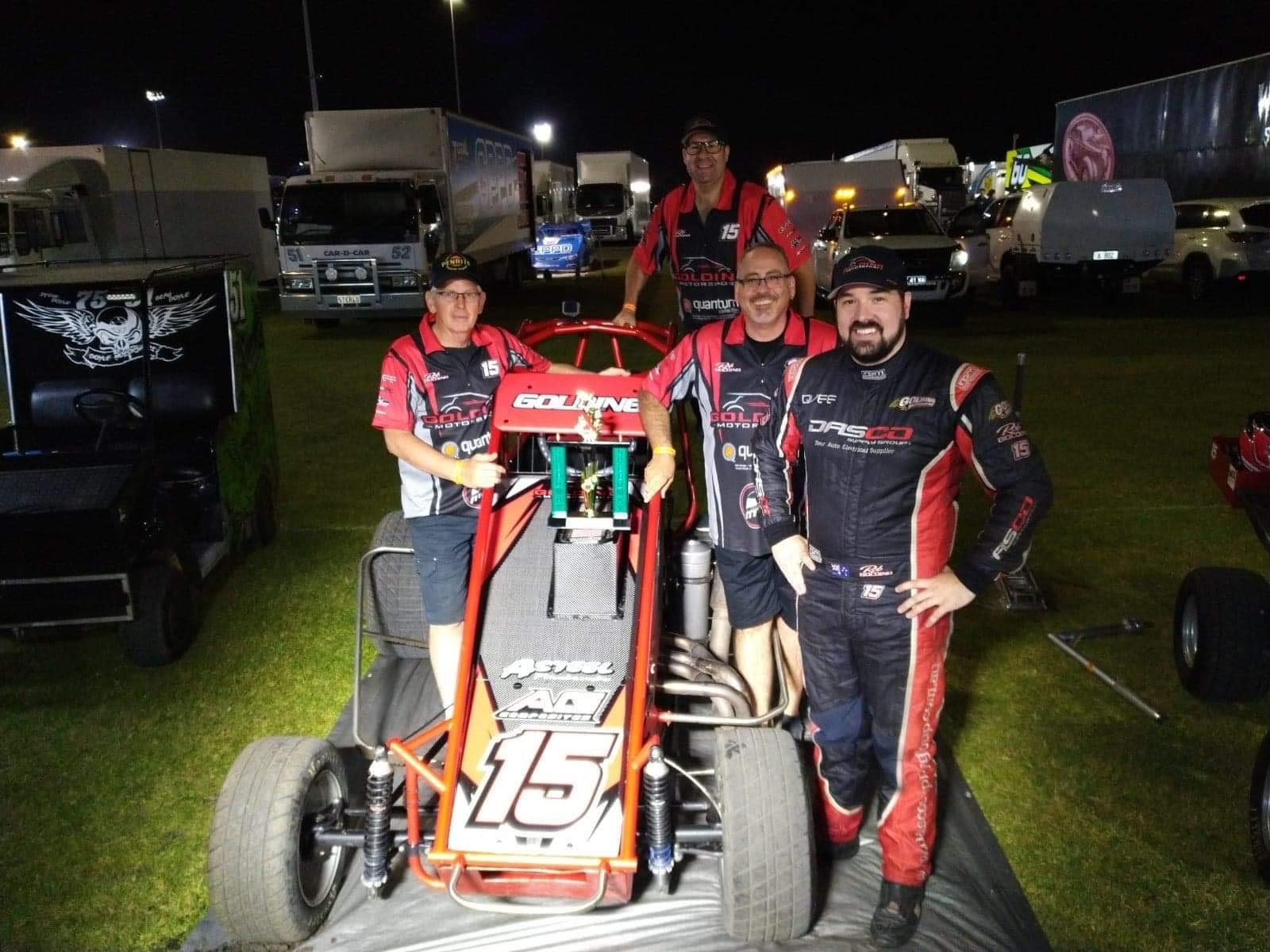 One Season Ends, Another Begins!
It has been a busy six months for the team at Golding Motorsport, with the 2019/20 season coming to a sudden end due to COVID, a whole pile of exciting things happening in the off season and now a new season beginning!
"It sure has been a big off season for us, not just racing wise but personally as well" says team driver Rob Golding. "During the height of the COVID shutdowns my wife gave birth to our first child. Our son Josh was born in May and it's been a pretty hectic few months since, but it's been an incredible experience and I can't wait to get him down to the track!"
Since the season finished back in March, firstly due to a rain out for the WA Title (where Rob qualified out of position eight for the feature prior to the heavens opening) and then the final events being cancelled due to the virus, the team has taken advantage of the extended break to give the car a birthday in preparation for a big season 2020/21.
"The car has gone through a rebuild," says Rob. "Asteel Powdercoaters helped us out again with the Chassis and this year we wanted to do something a bit different so went for a red. They absolutely knocked it out of the park; the chassis looks amazing! We will have a new design on the car soon too so stay tuned for that!"
"Our motor also got a bit of a freshen up, as with some of the parts reaching their end of life, it certainly had to be done. Vaughan at VM Race Engines worked his magic again and the motor is as strong as ever!"
"Finally, the trailer also had a fair bit of work done to it. I've always been a big believer in that you do whatever you can to make life easier. It's taken us a couple of years but we've now got the trailer to a point where everything is just super easy: easy to load, easy to unload, and everything has its place. It's little things like that, that although they don't seem like much, make a huge difference when you're rushing around on race night."
All of these efforts certainly paid off last weekend when Rob headed down to the Perth Motorplex for the season opening Powerpalooza event.
After engine starts it was straight into racing action, with teams qualifying and Rob coming seventh in his group with a 17.392 second lap.
"We were pretty average in hot lap qualifying" laments Rob. "I was very rusty after being out of the seat for six months and although the laps didn't feel too bad, the times said otherwise!"
With a restricted format for the night, Rob would get just one heat race, starting from position two and finishing in position two!"Initially that first heat looked like it was going to be a shocker" reflects Rob. "We started outside of the front row and got a bit of a bump off the start and I got jumped by everyone. I was able to run the bottom and make up a few places and was lucky to get back to second at the end."
The points for the evening would see Rob starting out of position five for the feature and from here it was all positive as Rob raced his way to a solid podium finish, a good start as he begins his journey towards capturing a second Perth Motorplex Track Championship.
"For the feature race I started on the inside and thought I'd run that for a few laps and see what happened as most people would run the top. It was very slick going into the corners but if you were patient you could pick up the line and launch off really well. I was starting to lose a bit of ground but there was a restart which allowed me to adjust the shocks a bit to help and it really lit the car up. I was able to keep up with Crackers (Keenan Fleming) for a few laps after that but I missed the line once and that was it, he gapped me and I couldn't catch him again. I did think about moving to the top, but I couldn't hear or see anyone around me so stuck at it and it worked out."
"I am absolutely wrapped with third. We went all last year without a podium, we just had rotten luck everywhere so to get one first night out is awesome, hopefully our luck has changed!"
One may have thought that the evening couldn't get any better, but after the night's formalities were completed, WASDA also held their annual Awards Night at the track after the original date was cancelled due to COVID. It was at this point that Rob received one of the highest honours available to WA Speedcar drivers, the Michael Figliomeni Driver's Driver Award.
"It's very humbling to get an award like the Drivers Driver and for it to be named in Figs honour just makes it that much more special" says Rob. "I grew up watching the likes of Figs and Nev battling it out so it's pretty surreal to have my name up there."
"It's also a huge nod to the competitor base we currently have racing Speedcars. We're all really competitive people, but there is a huge respect amongst all of the drivers and even a nice comradery now which wouldn't have been there a few years ago, so to win an award voted on by them is very cool."
It was a huge night for Rob and the Golding Motorsport team, and now with the opener out of the way it is time to work on the rest of the season. The next show of the season for Golding Motorsport will be the 21st of November back at the Perth Motorplex for the City of Kwinana Cup.
A big thanks once again to those sponsors who have gotten behind the tea this season: Quantum Collective, My Race Setup, Dasco Supply Group, QVEE, Thermal Dynamics Engine Heaters, Asteel Powdercoaters, AG Composites, Dominos Spearwood, Hyper Industries and Mills Drainage.
Release by DTN Media.Pics Courtesy Jason Sutton Photography/DTN and Golding Motorsport.