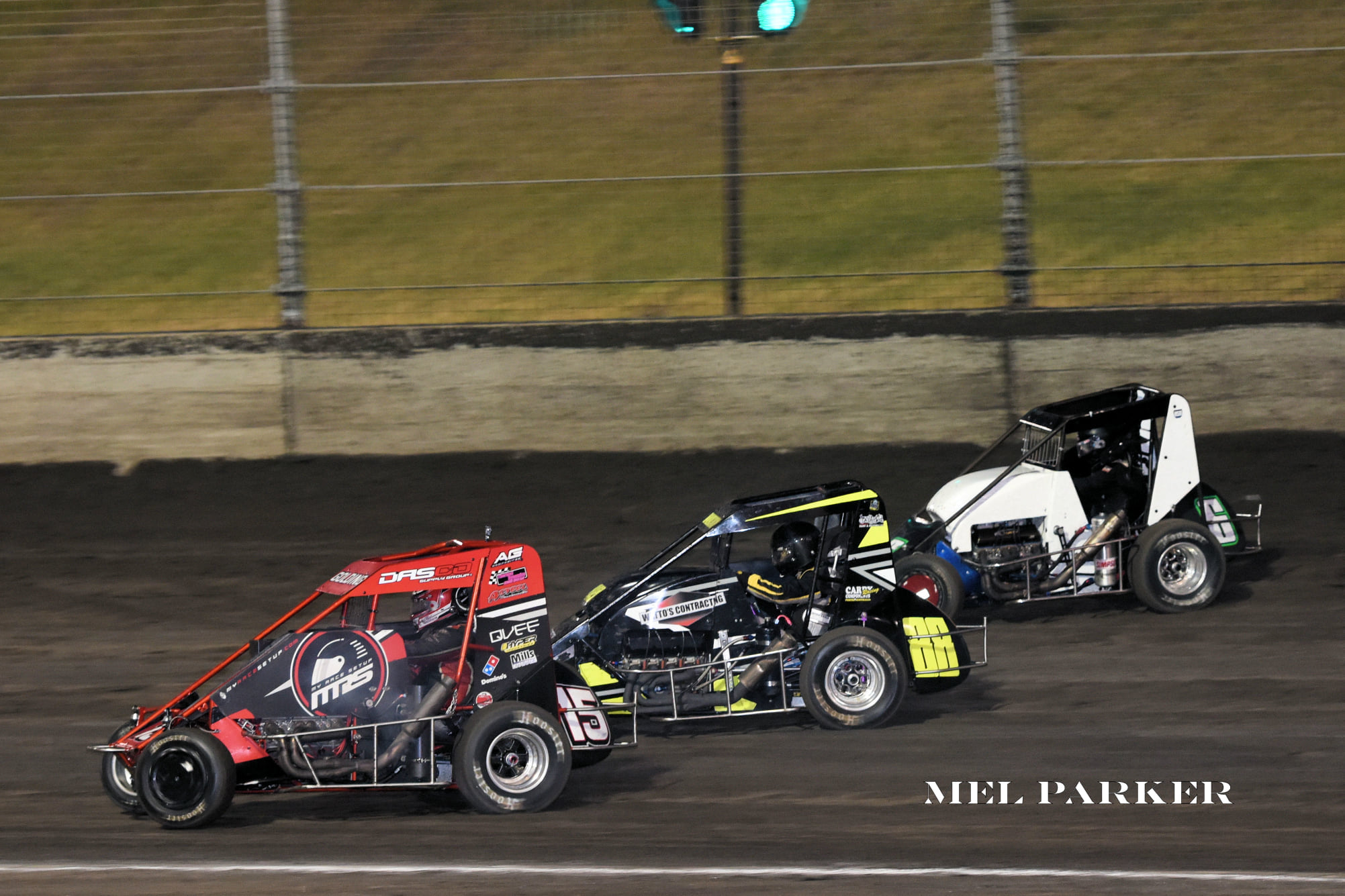 Twin 14's lead to Solid Finishes!
It was a new challenge for Rob and the Golding Motorsport team last Saturday night when they raced at the Perth Motorplex!
A different format and different track conditions compared to normal meant that the team had to work extra hard to adapt just to be competitive once again, a challenge which the whole team took in their stride.
The night was a twin feature night, with two fourteen lap features held in honour of WASDA legend and one of Rob's childhood heroes, 'Big Rev Nev' Neville Lance.
Because of the format change, teams only had engine starts and hot laps to dial into the track, with no heat races held.
"I felt like we were pretty good in hot laps, says Rob. "To be fourth after two Toyota powered cars is good for us! We are really trying to chase a bit more speed at the start of the night so to be quick out of the box is a positive.
"After the hot laps (where Rob recorded a 17.010 to be fourth fastest overall), Rob would start out of position six for the first feature and after dropping back to seventh early, was able to fight a back and forth battle with multiple position changes to ultimately come home in fifth.
"In the first feature we started off well. It was tough racing with cars all over the track making it really hard to pass and I think there was about six or seven of us at one stage all dicing with each other which was great fun. We got caught up when Alfie stopped on track and restarted fourth, but I changed the shocks a little during the yellow and feel like I dialed myself out a bit. I made a mistake on the last lap and Vaughan snuck by me so we had to settle for fifth.
"After a solid run in the opening feature, Rob was confident of a good showing in the second, where he was scheduled to start out of position seven, but would move up a bit after the early demise of some of the other racers. After holding down third for much of the race, Rob was pipped at the post and came home in fourth place.
"In the second feature we decided to leave the car as it was, which in hindsight was a bad move. Our car didn't go through the bumps well at all and it got really rough. I was able to gain a few places at the start and set off after Dan and Buddah, but at the moment there's no catching those two. As the track moved up towards the fence it got a lot rougher; going into turn three was pretty wild! I moved down a bit thinking I had the momentum and it didn't feel slower but that move cost me a podium. I spent twelve laps in third but all credit to Alife, he caught up and passed me when it counted."
"Two weeks in a row I've cost myself a good result so ill be looking to change that in the coming races." says a slightly frustrated Rob. "That was the fastest and roughest track we've had in a very long time. I'm a big fan of Motorplex and the whole crew down there, but I really hope that they slow the track down. That one was a car killer, super fast and rough makes it very demanding on equipment and drivers! When you see Sprintcars bouncing around and crashing imagine what its like with no downforce!"
Courtesy of last weekend's results, Rob has now moved into second in the Perth Motorplex Track Championship, just twenty seven points behind leader, brother Dan Golding, and he will be keen to peg back that difference at the next show.
The next event for Golding Motorsport will be back at the Perth Motorplex on the 29th of February for the legends night.
Golding Motorsport is proudly supported in season 2020/21 by Quantum Collective, My Race Setup, Dasco Supply Group, QVEE, Thermal Dynamics Engine Heaters, Asteel Powdercoaters, AG Composites, Dominos Spearwood, Hyper Industries and Mills Drainage.
Release by DTN Media.
Pics Courtesy Mel Parker