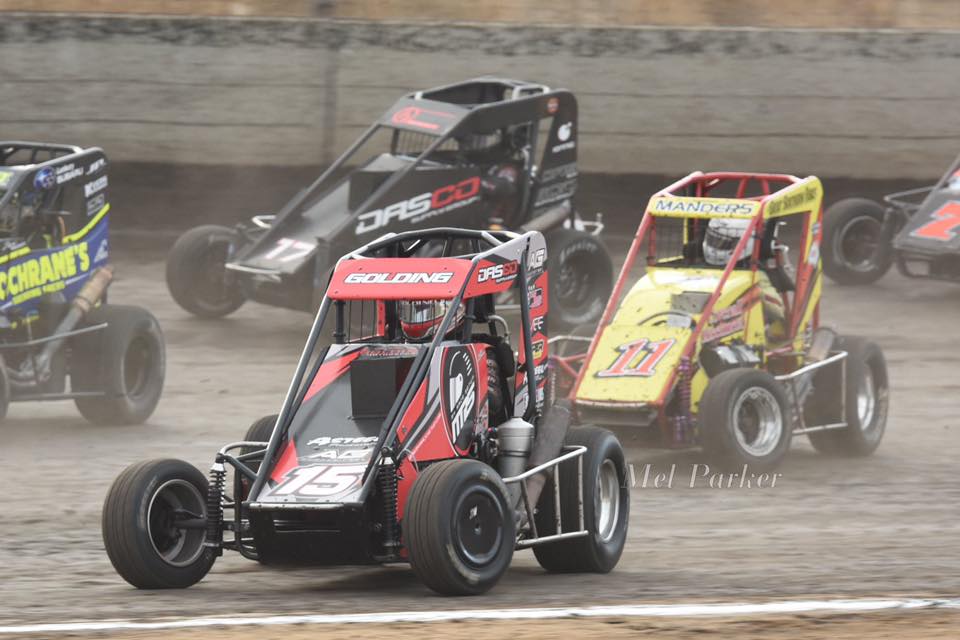 Up and down end to 2019!
It has been an up and down month for Golding Motorsport, with Rob not quite where he wants to be, but still coming home with some good results.
The biggest event of the season so far was the third annual John Day Speedcar Classic, which was held in the first week of December and started off rough for a number of competitors.
"We damaged a few a few things earlier in the night in turns one and two" says Rob. "I didn't feel too bad about it when I saw how many cars it claimed in the earlier heats though! I was racing Glen (Mears) and went for a slide job…there was nothing to hold the car there so I've jumped the dirt and hit the wall. We had replacement parts though so wasn't an issue to get back for the next heat."
After the qualifying heats next up was the all important feature race, where Rob was starting from position eleven and to be run over fifty laps, something that posed a challenge for Rob.
"Having not done a 50 lap race before it was a bit of a learning experience" Rob reflects. "In hindsight we were too conservative; with fuel, with tyres and even with the strategy. My plan was to roll around for the first 10-15 laps and try to stay out of trouble, wait for the fuel to burn off then see how we were going. By the end of the 15 laps we were going ok so I started to move up the track and I was able to run the top pretty well. I had a really good battle with Dan for a few laps, he had the drive coming out of the turns which I couldn't match. I was able to try a slide job and it stuck."
By the end of the fifty laps, Rob was able to bring the car home in sixth place, a massive achievement considering the level of competition he was up against and the attrition rate that many others suffered.
"We were aiming for an improvement on last years result in the John Day race which was 8th, so to finish 6th is a success. We came in with a heap more fuel than we thought, and the tyres could easily go another 50 laps! "
"It really was an awesome event, it's a shame that there wasn't that many cars from the East Coast, but with the calibre of drivers we had, it still made it great to be a part of. I'm so glad WASDA is going to continue on with the fantastic work the JDSC committee have done over the last 3 years. To have the current USAC Champ, current NZ Champ and the Aussie Champ in the field, plus another 2 former Australian Champions, it's a pretty special race to be a part of."
Moving on a couple of weeks and Rob was back on track for the annual Boxing Day meeting. The first heat was a rough one for many competitors and Rob certainly wasn't exempt, finding himself upside down.
"In the first heat I had a couple of good starts but the yellow's kept getting called" says Rob. "Once we finally got going, I moved to the top of the track and someone had a problem in front of me, a couple of cars got caught up and I was the lucky one who ended up on my head…there's pretty much nothing you can do in that scenario! There wasn't much damage, we were very lucky in that way – it could have been much worse! It just did a radius rod and a wheel half. We had it all fixed up for the Indian file."
After the team worked hard to get the car for the Indian File, remembering that every race counts towards the Perth Motorplex Track Championship, of which Rob is currently the defending Champion, he was ready to hit the track again, but things just didn't go the way he planned once again.
"A couple of laps into the Indian File the car developed a pretty big miss in the motor" say Rob, shaking his head. "Anytime I would go over half throttle the car would break down and drop a cylinder. Before the feature we checked a few things and changed some more to see if that fixed it but unfortunately it didn't have any effect. It made it real hard to do anything in the race which is a shame. I was keeping up with everyone at the start, but I couldn't go over half throttle as then then just pulled away. Its so frustrating as the car was really good through the turns and I could run the bottom really well, but halfway down the straight it would give up. Another night that sums up our season really, we just can't catch a break!"
Despite the engine issues, Rob was once again able to outlast a number of other competitors to officially be scored in fourth place, which in turn sees him now sitting in sixth place in the Championship. The team now has a few weeks off to celebrate the festive season and get ready for the next event, to be held on January 11th.
On behalf of the whole Golding Motorsport team, we wish you a very Happy and Safe New Year, thank you all for your support and we will see you back on track for the New Year Speedcar Derby!
Release by DTN Media.
Pics Courtesy Mel Parker.